You Asked for It, and We Delivered!
CIS is pleased to announce that we have reprogrammed the system to work on your smartphone or tablet. The change will occur on March 12. You should experience no change to CIS on your desktop.
From your phone, the navigation menu provides access to all CIS tools.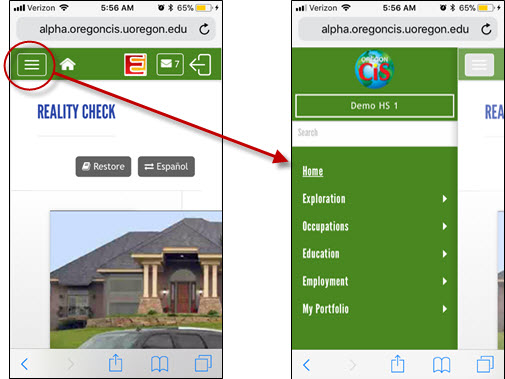 This will be the first step in updating CIS. The next phase includes implementing a new design that will give you, your students, and your clients quicker access to information, tools, and portfolio interaction whenever you need it. The new design will be piloted with WorkSource sites in Fall 2019. You will be able to access the new interface and provide feedback.
We are very pleased to provide this enhancement after so many requests from you and your colleagues throughout Oregon. CIS is a consortium. We rely on your feedback and input for our development. We are also here if you need training or support. Don't hesitate to contact us: CISservice@uoregon.edu or 1.800.495.1266